Our thoughts
For those who seek authenticity, real furniture. We deliver world-class quality to living spaces.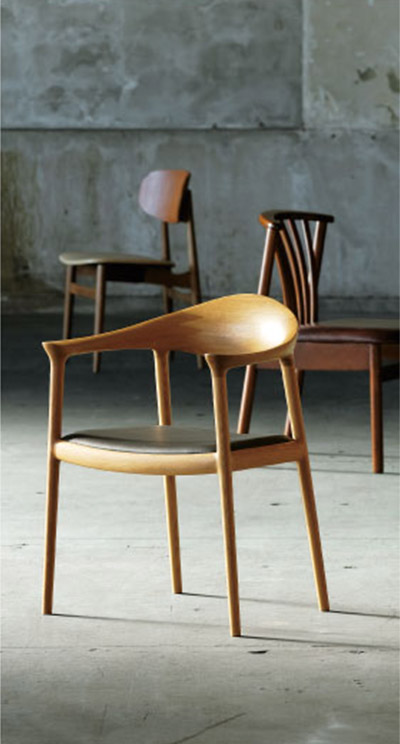 Spend quality time in a comfortable space
Furniture that never fades, furniture that becomes more attached as time goes by, that is the standard for furniture making Asahi Wood Processing. In order to meet these standards, we have pursued technologies that highlight the appeal of natural materials and designs that are not swayed by trends. In addition to responding to the market, we have also actively collaborated with top European brands with a long history to evolve furniture making by meeting strict demands. For those who seek authenticity, real furniture. We deliver world-class quality to living spaces.
Keep looking at people and the times.
Wanting to spend a rich time, Asahi Wood Processing is a manufacturer that was nurtured by such thoughts of people. Toyohashi City, Aichi Japan, where we have roots, is an area where sericulture was once popular, a loom for weaving raw silk was invented, and wood processing to make the loom became an industry. Asahi Woodworking, the predecessor of Asahi Wood Processing, was one of the companies responsible for such local industries.
In the past time, the manufacture of furniture using the skills of craftsmen began. Starting with the manufacture of radio housings, it expanded the manufacture of TV cabinets with the passage of time. Demand for TV cabinets exploded so explosively that production could not keep up even if the factory was expanded, and they became the driving force behind the growth of Asahi Woodworking. On the other hand, we also started making furniture such as dining sets and living sets in anticipation of the next needs. In 1968, we began touring Europe and incorporating Italian design and German manufacturing technology. The influence of European furniture manufactures leading global brands is great, and the phrase "good designers must be nurtured by the company" still lives on in our hearts.
A new wind in furniture making
More than 40 years after we started making furniture, we are starting a new initiative. One of them is to nurture the craftsmen who will lead the next generation. In addition to passing on technology, we are working on repairing furniture manufactured decades ago in Scandinavia and learning the essence of furniture making that lives there.

Another initiative is to create a system to continue to utilize the resource of trees. Trees are a resource that cannot be depleted if they are cut down, planted, and recycled systematically. By selecting reliable suppliers, we aim to preserve abundant resources for the next generation.

In order to continue to make beautiful furniture, we are trying to create a new wind for the future.